Biography
American dancer Tristan Dyer is a former Soloist of The Royal Ballet. He trained at The Royal Ballet School and graduated into the Company as an Artist in 2009, promoted to First Artist in 2013 and Soloist in 2014. He retired at the end of the 2019/20 Season.
Dyer was born in Rhode Island. He trained locally and at The National Ballet School of Canada, Australian Ballet School and The Royal Ballet School. While a student he received second prize at the 2008 Young British Dancer of the Year Competition. With the Company, his roles included Hans-Peter/Nutcracker (The Nutcracker), Alain (La Fille mal gardée), Florestan (The Sleeping Beauty), Matador (Don Quixote), lead pas de six (Giselle), pas de trois and Neapolitan dance (Swan Lake), Magdaveya (La Bayadère), pas de six (La Sylphide), Benvolio (Romeo and Juliet), Dancing Gentleman (Manon), Bratfisch (Mayerling), Footman/Fish and Jack/Knave of Hearts (Alice's Adventures in Wonderland), the title role in Frankenstein, Viscera quintet and roles in Rhapsody, The Vertiginous Thrill of Exactitude, Tetractys, Symphonic Variations, DGV:Danse à grande vitesse, 'Rubies' (Jewels), Chroma, Monotones I, Infra, Polyphonia, Symphony in C, Ceremony of Innocence, Aeternum, Song of the Earth, Within the Golden Hour, Multiverse and Carbon Life. He has created several roles, including Malin (The Age of Anxiety) and in Obsidian Tear, Woolf Works, Raven Girl, The Winter's Tale, Limen, Carbon Life, Asphodel Meadows and 'Trespass' (Metamorphosis: Titian 2012).
Dyer was involved in several projects with the Royal Opera House Learning and Participation department, including creating the role of Bacchus (Morgann Runacre-Temple's The Stargazer) for One Big Stage in 2012 and dancing the Chosen One (The Rite of Spring) in a special performance with children aged 9–10 in the Linbury Studio Theatre as part of Chance to Dance.
News and features
11 January 2017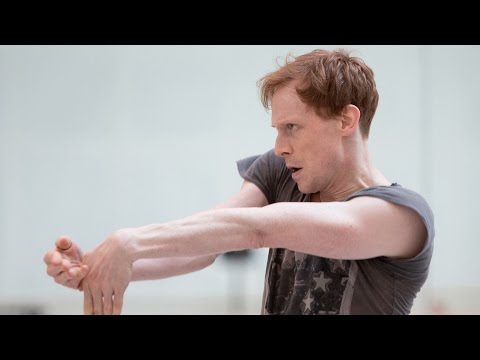 Find out how Wayne McGregor adapted Virginia Woolf's writings for ballet, and get a closer look at the choreography.
6 January 2017
Cast changes for the roles of Clara and Hans-Peter/The Nutcracker have been announced.
9 October 2014
A behind-the-scenes look at the choreographer's new work for The Royal Ballet.
Photos