Biography
Danish bass-baritone Johan Reuter made his Royal Opera debut in 2006 as Wozzeck. He has since sung Theseus (The Minotaur), Jokanaan (Salome), Grigory Gryaznoy (The Tsar's Bride), Barak (Die Frau ohne Schatten), the title role in Oedipe and Šiškov/Priest (From the House of the Dead) for The Royal Opera. In the 2019/20 Season he sings Kurwenal (Tristan und Isolde) for The Royal Opera.
Reuter was born in Copenhagen and studied at the Royal Danish Academy of Music and the Royal Danish Opera Academy. He began his career in the vocal ensemble Ars Nova Copenhagen and joined Royal Danish Opera in 1996. His roles with the company have included Richard Nixon (Nixon in China), Marsk Stig (Drot og Marsk), Joseph Rocher (Dead Man Walking), Boris Godunov, the Dutchman (Der fliegende Holländer), Dr Schön/Jack the Ripper (Lulu), Michele (Il tabarro) and Gianni Schicchi. Other selected appearances have included Dr Schön/Jack the Ripper for the Metropolitan Opera, New York, Wotan (Das Rheingold) for Bavarian State Opera and the Bayreuth Festival, Wotan (Die Walküre) in Toronto, Wozzeck (Deutsche Oper Berlin), Hans Sachs (Die Meistersinger von Nürnberg) for the National Centre for the Performing Arts in Beijing, Šiškov for Frankfurt Opera, Oedipe for Dutch National Opera, Orest (Elektra) for Vienna and Bavarian State Opera, Gregor Mittenhofer (Elegy for Young Lovers) for Theater an der Wien and the Dutchman for Deutsche Oper Berlin and Finnish National Opera.
Reuter has an international career as a concert performer and has appeared at major festivals including the Bregenz Festival, Maggio Musicale, Florence, and the BBC Proms. His wide discography includes recordings of Kunzen's Holger Danske, Nielsen's Maskarade and Verdi arias. He is a Kinght 1st Class of the Danish Order of the Dannebrog.
News and features
27 May 2016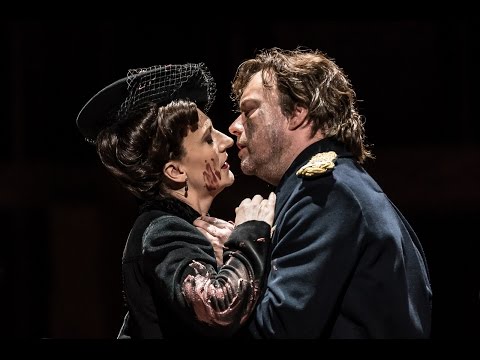 The stars of The Royal Opera's new production discuss the monstrous myth and what makes the music so special for singers.
24 May 2016
What did you think of Àlex Ollé and Valentina Carrasco's Royal Opera production of Enescu's masterpiece?
12 September 2013
How do they keep a baritone underwater for seven minutes?
Photos