Royal Opera House Queue Ticket c.1950-1960s © ROH Collections
ROH Collections recently received a donation of two items that once formed part of the Royal Opera House's regulated system for that most British of past times – queuing. The donation of two Royal Opera House queue tickets came from Peter Brown, a long-time patron of the Royal Opera House. Peter remembers coming to the Royal Opera House in the 1950s and 1960s in the early hours to collect his queue ticket – a significant souvenir for those who recall 'the old days' long before the advent of online booking.
The Queue Ticket System was introduced at the ROH in 1949. Its aim was to reduce queuing time on booking days to a minimum, as patrons previously 'had to wait some hours' to reach the Box Offices. In those days, each seating area had its own Box Office – for example, the Amphitheatre Box Office – and the Box Office staff could serve only a limited number people per hour.
Royal Opera House Queue Ticket c.1950-1960s © ROH Collections
The Queue Ticket System had three rules; the queue tickets were issued at the discretion of the Box Office Management; they were issued at 8.30am on the opening day of a new booking period; and each queue ticket was numbered and featured the time at which the queue should be re-joined. So you did not forget, these rules were published in the form of a handy leaflet, which is also archived with ROH Collections.
Royal Opera House Queue Tickets, unknown date © ROH Collections
Just over two decades later the ROH believed the Queue Ticket System had 'outlived its usefulness'. In July 1974 General Administrator John Tooley issued a letter to patrons stating that a new booking system was to be introduced in order to offer a better and speedier customer service. The new system, which involved opening an hour earlier than usual (9am) on the first day of booking for a new period, was introduced on 2 September 1974 and did indeed serve more people per hour than had been previously possible.
However, the old Queue Ticket System appears to have been favoured by many patrons. Less than three weeks later another letter was sent out stating that 'it was clear from comments made on the day and subsequently from letters, that while the new arrangement was satisfactory to some, many found it less than welcome, and since it is clearly our concern to make ticket purchase as easy as possible, the Queue Ticket System will be re-introduced from October 1st [1974]'. The Queue Ticket System remained in place for several more years, and is believed to have been finally put to rest in February 1977.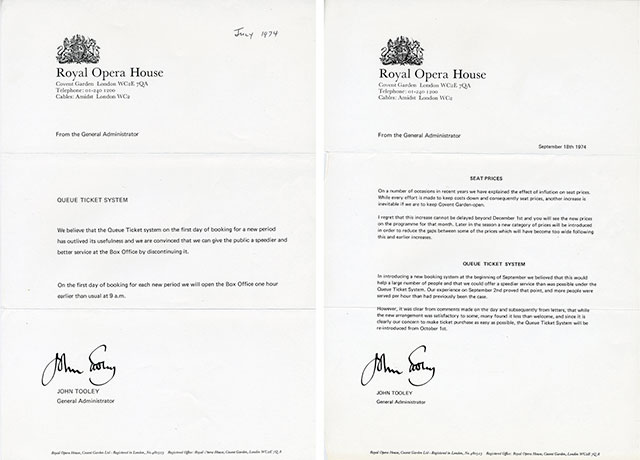 We would love to learn more about the queue tickets, people's experiences of using them and why people felt so strongly about the Queue Ticket System when it was first axed in 1974. If you have any memories of using the Queue Ticket System in order to secure that much wanted ticket to a performance, please let us know in the comments section below, or for further contact details please visit the ROH Collections page.