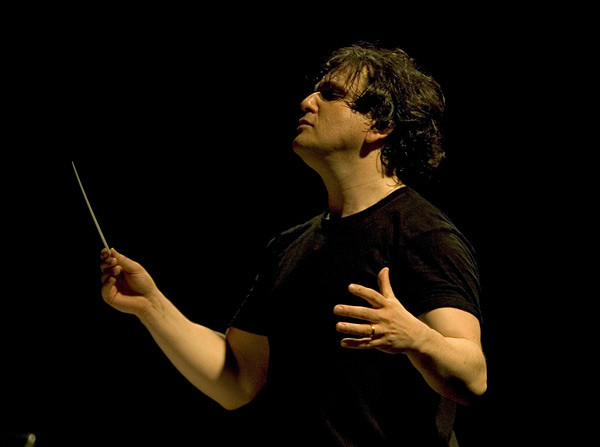 Antonio Pappano © Clive Barda/ROH 2011
Like all Verdi's masterpieces, Les Vêpres siciliennes is packed full of vibrant ensembles, thrilling character portraits, and really great tunes.
The Act III duet between tenor hero Henri and ostensible bad-guy baritone Montfort has it all, with one of the opera's loveliest melodies (Verdi made sure to weave it into the overture) and blazing dramatic energy.
Henri sings in all five of the opera's duets, each among Verdi's finest. Henri and Montfort have already tested their wits against each other in the fiery duet that ends Act I. When Henri arrives in Montfort's study in Act III, he's fresh from his Act II duet with heroine Hélène. To win her love he has promised to avenge her brother's death. The murderer? Montfort, of course.
Henri doesn't know that Montfort has received a letter from Henri's late mother, explaining that Henri is his son, a child of rape. She has told Henri nothing about his father, and raised him to hate Montfort. Before Henri arrives Montfort has sung the melancholic 'Au sein de la puissance' (In the lap of power), dwelling on the emptiness in his heart that wealth and power cannot fill. The aria's second section glows with a gentle hope: Montfort prays that Henri might be his salvation.
(Recordings of the original French libretto are few and far between, so we're using James Levine's I vespri siciliani.)
Henri is brought before Montfort. After some terse recitative, Montfort begins a mournful melody 'Quand ma bonté toujours nouvelle' (When my ever-new kindness), cautiously testing the waters for his revelation. Over this lyricism Henri's abrupt, angry semiquavers indicate a violent repulsion barely suppressed.
Montfort hands Henri the letter – and here comes that glorious tune, as Montfort sings 'Pour moi, pour moi, quelle ivresse inconnue' (For me, what unknown joy). Henri, though, seems impervious. His short phrases flit around Montfort's rich melody rather than integrating with it, as breathless joy at seeing this last memento of his mother is transformed into horror.
In the following recitative Montfort tries to convince Henri to accept him as a father, promising him his name and the power that comes with it. It only deepens Henri's despair; ringing in his ears is Hélène's promise that if he kills Montfort he will become a king in her eyes. Increasingly agitated, he finally bursts out that 'C'est un nom détesté!' (It is a hated name).
There's a shocked pause – but in the following, frantic section we see Henri beginning to move towards Montfort. Montfort, furiously hurt, dwells on the insult, and is echoed at a bar's distance by Henri. It's as though Henri is closely watching his father, feeling the first pangs of sympathy for a man he has been taught to believe is a monster.
Montfort presents a last lyrical tune in 'Quoi, ma tendresse' (This, my love) – lying much higher in his voice than the previous melodies, in a quite literal representation of his emotion. Though Henri begs to be released, his interjections now engage with Montfort's melody in sinuous counterpoint. Finally he admits 'Je voudrais courir en vos bras' (I long to run to your arms), but in an anguished new section he desperately recalls his unhappy mother. Montfort, shaken with guilt, can only sing on one yearning note 'oh mon fils!' (oh my son!).
Finally the overture theme returns, but now Henri holds the melody. He's appealing to his mother's ghost, but it's a definitive sign of the bond between the two men that leads inexorably to the opera's tragic ending.
Les Vêpres siciliennes runs from 17 October – 11 November 2013. The production will also be screened live in cinemas around the world on 4 November and is staged with the generous philanthropic support of Mrs Susan A. Olde OBE, Mrs Aline Foriel-Destezet, Mr and Mrs Baha Bassatne and The Maestro's Circle.