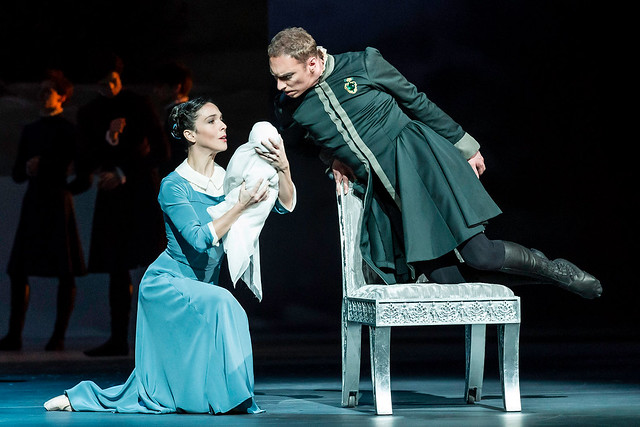 Laura Morera and Bennet Gartside in The Winter's Tale © ROH/Johan Persson, 2014
Royal Ballet dancers Elizabeth Harrod and Laura McCulloch recently spoke to BBC Radio 4's Woman's Hour about the challenges of balancing professional dancing with motherhood.
'I think once you make the decision to start a family, you relinquish all control over everything', Laura told presenter Jenni Murray. 'You can't decide how you're going to feel, how your body will change and when it'll change. Luckily the Royal Ballet staff are very supportive – I told them pretty early on but I guess with the way we are and the discipline we have, it's quite normal for us to carry on regardless.'
'I performed only until about a month into my pregnancy', said Elizabeth, who gave birth to her first child four months ago. 'I didn't tell my dance partners at the time because I didn't want them to be nervous handling me or treat me any differently. When I stopped performing, it was because I felt so ill that I could hardly put one foot in front of the other. I'd be stood in my tutu and then going into the wings, taking deep breaths and trying not to be sick!'
Being a ballet dancer demands a tremendous amount of discipline from a young age, but both Laura and Elizabeth have embraced the change of gear that pregnancy demands.
'Our whole working lives, we've been used to doing quite long days', said Laura. 'Now it's a total change, doing maybe a couple of hours a day, but it's such a ritual. If I have a couple of days where I don't do anything, I feel like I want to move my body anyway. I go in and do my daily class with everyone else. At this moment in time, being six months pregnant, I can still do pointe work. It's quite strange balancing and I've had to adapt – sometimes I think the extra weight helps. I feel like my centre of gravity is lower.'
'I could still do the splits right until I gave birth, and did every day!' said Elizabeth.
After giving birth, a dancer needs to build up their fitness to be ready to return to the stage.
'I've just started going back to work in the past few weeks', said Elizabeth. '[My daughter] Audrey has just turned four months and I took three months off completely - I didn't do so much as point a toe. But I've started now with some very basic pilates, and going to ballet class. It's normal everyday training but at a lower grade. I'll gradually increase what I do but I think it'll take a couple of months in total to get back to full fitness.'
The time it takes to return to the stage varies from dancer to dancer, partly determined by the role in which they make their return.
'There are certain roles that are really physically demanding where you have to jump a lot and do some very technical steps as well', said Laura.
'La Fille mal gardée is returning to our stage very soon and it features a number of cameo roles including the four chickens, who are quite hilarious', said Elizabeth. 'They wear these huge chicken suits so obviously if I were to do that, I could probably get away with it now with just my arms and legs showing. It's far less revealing than doing something in a corseted tutu where you've very exposed.'
Elizabeth is married to fellow Royal Ballet dancer Steven McRae, and expects their busy professional lives to present challenges when it comes to balancing being parents and full-time dancers.
'We don't have regular working hours. It's not ideal, but I think many working parents know that situation. I don't think it's that much more abnormal than many jobs.'
And as for Audrey's potential as a ballet dancer? 'We won't encourage her in any great way, but like many children if she wants to put on a tutu and run around and start to dance naturally and spin and make herself dizzy and one thing leads to herself then fine, we would never stop her. We shan't be forcing it upon her!