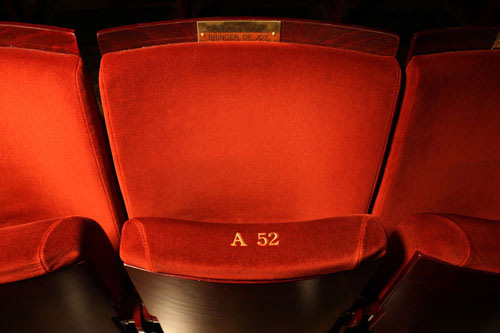 To hear this chair was purchased in memory of someone's loving son is thought-provoking. Knowing the name of a person, and a little of what they loved, breathes life into the seat!
Mary Brown, who sat in A52, named in memory of Duncan Gray
Naming a seat at the Royal Opera House is a special way of remembering a friend or family member or celebrating a significant birthday. From the front row of the stalls to slips and standing places, every brass plaque has a story – some obvious, some less so.
Seats are named in memory of opera and ballet lovers, in honour of artists or to commemorate members of the Royal Opera House's staff. Some have been donated by a single family member, while others have come through groups of friends clubbing together or 'in memoriam' collections at funerals.
Once a plaque is installed it will remain in place for the life of the seat to which it is attached. All the seats in the Royal Opera House's auditorium were replaced as part of the redevelopment of 1997-99, and are in excellent condition. We do not anticipate that the seats will need to be replaced for many years to come, but when the time comes, every effort will be made to contact those who have named the seats, and to re-install the plaques at a permanent location elsewhere at the Royal Opera House.
During his life, Duncan enjoyed all kinds of opera, classical music and art, and when he died his parents, Peter and Katie, wanted to find a way to remember his passions. Duncan had often had a friendly spar with his dad about favourite operas and composers; Peter thought Mozart was sublime, 'music to take you to heaven', while Duncan thought that Wagner was far superior – he said if you heard Wagner's operas you were already in heaven, or Valhalla at least! Seat A52 now has a very personal meaning for the Gray family.
Seat A52 is named in memory of Duncan Gray
Supporting the work of the Royal Opera House
The Royal Opera House requests that everyone who names a seat makes a donation to the Royal Opera House Covent Garden Foundation, the registered charity (number 211775), which supports every aspect of the Royal Opera House's work. The size of the donation varies depending on the location of the seat chosen, starting at £500 for seats in the rear Amphitheatre, slips and standing places.
While the plaque on the chosen seat honours the person for whom it is named, the donation helps to support the living arts that they loved. Donations help with presentation of new productions and revivals by The Royal Opera and The Royal Ballet, the training of young performers, the work of Royal Opera House Education and the behind-the-scenes work of skilled technicians and craftspeople.
What next?
If you are interested in finding out more about naming a seat at the Royal Opera House, please contact Sacha Glasgow-Smith on +44 (0)20 7212 9510. Sacha can discuss the different seats available, the donations requested at each level, and the options for wording. If you would like to visit the auditorium before choosing 'your' seat, this can be arranged.
Donations to name a seat can be made as a single payment or as instalments, paid by monthly Direct Debits over 12 months. If you are a US taxpayer, you may wish to support the American Friends of Covent Garden.
Once your plaque is installed
Once you have decided on a particular seat and the wording for your plaque, it will take up to a month to be installed. We will let you know when it is in place, and can then arrange a time (subject to rehearsal and performance schedules) for you to view it privately with friends or relatives. At the same time, we can also arrange a private backstage tour, so that you can see some of the behind-the-scenes work that your donation has helped to support.
Please note: Boxes are not currently available for naming. Naming a seat does not include admission to individual performances or events or guarantee allocation of that seat for a particular performance.