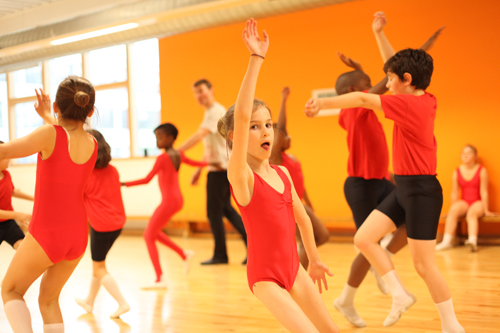 I've enjoyed everything…I feel a lot more confident.'
Melanie, 9, Chance to Dance Participant
This year at the Royal Opera House we are celebrating a very special birthday: Chance to Dance, our inspiring learning and participation programme for children in Lambeth, Southwark and Thurrock, has been running for 25 years.
Chance to Dance engages, inspires and identifies potential in children who would not have otherwise had access to experiences in ballet. Each year the programme reaches 1,500 children across 24 primary schools with demonstrations, in-school ballet workshops and free weekly ballet classes.
Please give a gift today to support the costs of Chance to Dance.
'My child has been supported in becoming more positive in his social skills and thinking out of the box… it has also supported him with his anxiety.'
Parent of Level 3 participant, Lambeth
'It is an amazing opportunity for any child. I am very proud that my daughter is participating.'
Parent of Level 2 participant, Thurrock
With your help we can continue reaching and giving opportunity to so many young children with the magic of live ballet. Please help us continue this wonderful programme by making a donation today. Thank you.
£46 could pay for a child to receive six weeks of creative ballet workshops.
£114 could pay for 30 children to attend a demonstration.
£237 could pay for a primary school to attend a demonstration.
£333 could pay for a child to receive free weekly classes for a year,
£479 could pay for a week of ballet workshops at a school.
Donate now
---
We are very grateful to the following for their existing support of Chance to Dance:
The Mohn Westlake Foundation, MariaMarina Foundation, Thurrock Borough Council, Gonzalo and Maria Garcia, Simon and Tracey Holden, Orinoco Foundation, The Royal Opera House Endowment Fund, CHK Charities Limited, Gisela Graham Foundation, Dame Sue Street DCB, J Paul Getty Jnr Charitable Trust, The Rothschild Foundation, The Lauffer Family Charitable Trust, Freed of London, Sue Sheridan OBE, Chapman Charitable Trust, Fowler Smith and Jones Trust, Memery Crystal Charitable Trust, Essex Youth Trust, The Sargent Charitable Trust, Donald and Rachael Stearns and donors to the Chance to Dance Appeal.