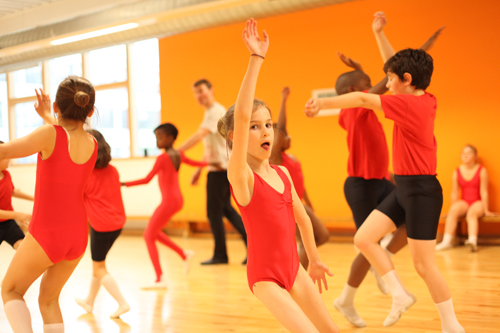 I've enjoyed everything…I feel a lot more confident.'
Melanie, 9
Help give children in London and Essex the chance to dance.
Please give a gift today to support the Royal Opera House's Chance to Dance programme, reaching 1,800 primary school children each year in Lambeth, Southwark and Thurrock. Chance to Dance creates access to ballet for those who might not otherwise have the opportunity to experience the art form, through demonstrations, workshops and weekly classes for the children who show the most enthusiasm and potential.
'It's a remarkable programme'
Andrew Tidmarsh and Cordelia Galloway, parents of Jacob Tidmarsh who starts at the Royal Ballet School this September.
Chance to Dance is free for all children involved. Please help us cover the required costs by making a contribution today – thank you. It costs just £12 for a child to take part in one class.
£52 could pay for a child to receive six weeks of workshops
£120 could pay for 10 children to have one lesson
£260 could pay for workshops reaching up to 90 children
£468 could pay for a child to receive weekly lessons for a year
£1,872 could pay for a child to receive weekly lessons for four years, the full length of the programme.
---
Donate now
---
We are very grateful to the following for their existing support of Chance to Dance:
Mrs Lily Safra, J Paul Getty Jr Charitable Trust, Orinoco Foundation, Marit Mohn, Simon and Tracey Holden, Thurrock Borough Council, MariaMarina Foundation, Gonzalo and Maria Garcia, Royal Opera House Endowment Fund, CHK Charities Limited, Marina Hobson MBE, Eugene and Stephanie Leouzon, Sue Street, Raymonde Jay, Katrin and Christoph Henkel, Robin Vince, Freed of London, Fowler Smith and Jones, Sue Sheridan and The Worshipful Company of Chartered Secretaries.