Venue hire
Royal Opera House is a member of both Unique Venues of London, a marketing consortium which unites some of London's finest and dynamic buildings and monuments, and London & Partners, London's official convention bureau that offers free, impartial advice, guidance and support to conference planners, associations and convention organisers.
Download (PDF) our Events Brochure.
Download (PDF) a list of our accredited suppliers.
For more information please contact:
Aris Giatras on +44 (0) 20 7212 9755 or aris.giatras@roh.org.uk
Dean Drury on +44 (0)20 7212 9150 or dean.drury@roh.org.uk
Previous clients
GQ Men of the Year Awards, Nicole Farhi, Orange, Google, BP, Eurostar, Coutts, Nickelodeon, Universal Music, Hermes, Rolex, LVMH, Barclaycard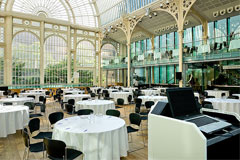 With its magnificent barrelled roof and stunning ironwork, the Paul Hamlyn Hall is a spectacular venue. Light and spacious, it is perfectly suited for lunches, conferences, award ceremonies and launches.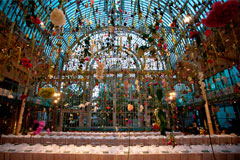 The Paul Hamlyn Hall is synonymous with hosting some of the capitals most glittering parties and dinners, from the GQ Men of the Year Awards, to the Rolex Protégé Programme Awards, to the BAFTAs.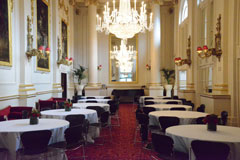 With opulent reds and golds, crystal chandeliers and 17th-century Flemish artwork, the Crush Room captures the historical splendour of the Royal Opera House and is ideal for smaller events.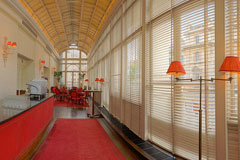 Situated above the old carriage walkway on Bow Street with a barrelled roof and elegant floor to ceiling windows, the Conservatory is ideal for small drinks receptions and intimate dinners.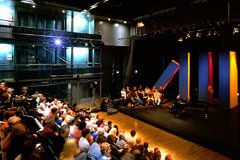 A flexible modern theatre space with an adaptable layout, the Linbury Studio Theatre is ideal for conferences with high production and AV requirements, while the adjoining foyer and bar are perfect for breaks and receptions.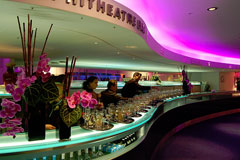 Located on the top floor of the Royal Opera House, the Amphitheatre level is a hugely flexible modern space ideal for lunches and conferences, while the connecting Terrace offers a breathtaking view over the London skyline.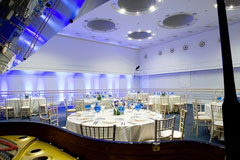 Complete with ballet barres, mirrors and a grand piano, the ballet studios are flexible spaces with endless potential and offer an original and quirky alternative for dinners and receptions.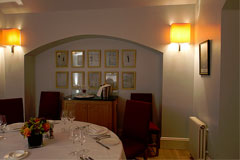 Situated in the old vaulted dressing rooms of the Royal Opera House, these intimate private rooms are ideal for small meetings, receptions, lunches and dinners.