The Nutcracker - Welcome Performance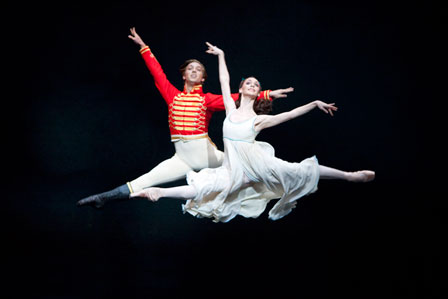 Join us for this seasonal favourite – a special treat for first-time families.
Introduction
Clara, a young girl, creeps downstairs on Christmas Eve to retrieve her favourite present. But a mysterious magician, Drosselmeyer, is waiting to sweep her off on a magical adventure.
Background
If you and your family have never seen a production on the main stage at the Royal Opera House, why not come and experience the magic of ballet for as little as £5? With a morning of fun and free activities, including dressing up, a design workshop and storytelling, your visit will be a special day to remember.
The Nutcracker is classical ballet at its most approachable and visually entrancing, and will appeal to everyone, from children as young as five years, to the oldest in the family.
If you are unable to attend this special Welcome Performance of The Nutcracker there are performances open to the general public from 10 December to 16 January.
Please note
This performance of The Nutcracker is only available to those that have successfully registered for our Welcome Performances for Families scheme.
Find out if you are eligible to join here
You will need to sign in to your account before booking tickets.
Thanks to
Generous philanthropic support from
Gregory and Regina Annenberg Weingarten through The Annenberg Foundation.
Morning Activities
Welcome Performances include free drop-in activities from 10am to enjoy before the show, however we have a limited number of spaces for free backstage tours and The Royal Ballet in Class which require a ticket. For more information about drop-in activities and our reduced-price menu in our bars and restaurants, click here.
Running time
About 2 hours 10 minutes | Including one interval
Credits
| | |
| --- | --- |
| Choreography | Peter Wright after Lev Ivanov |
| Music | Pyotr Il'yich Tchaikovsky |
| Original scenario | Marius Petipa |
| Production and scenario | Peter Wright |
| Designs | Julia Trevelyan Oman |
| Lighting design | Mark Henderson |
| Production Consultant | Roland John Wiley |
| Staging | Christopher Carr |