Swan Lake – Welcome Performance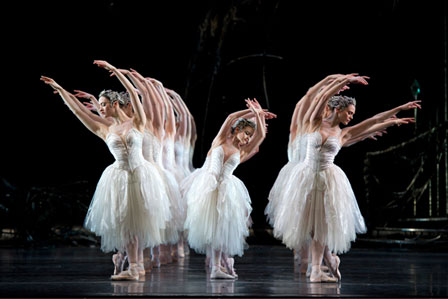 Join us for the opening performance of The Royal Ballet Season – a special treat for first-time families.
Introduction
Prince Siegfried discovers a flock of swans while out hunting. When one of the swans turns into a beautiful woman he is captivated – will his love be strong enough to break the evil spell that she is under?
Background
If you and your family have never seen a production on the main stage at the Royal Opera House, why not come and experience the magic of ballet for as little as £5? With a morning of fun and free activities, including dressing up, a design workshop and storytelling, your visit will be a special day to remember.
Swan Lake is one of the greatest of ballets, with memorable music and a timeless story of good against evil. Anthony Dowell's production draws on the style of 1890s Russia and features the wonderful Dance of the Little Swans, famous for its white tutus and beautiful choreography. It is the perfect first-time ballet!
If you are unable to attend this special Welcome Performance of Swan Lake there are performances open to the general public from 8 October to 24 November.
Thanks to
Generously supported by
Gregory and Regina Annenberg Weingarten through The Annenberg Foundation.
Please note
This performance of Swan Lake is only available to those that have successfully registered for our Welcome Performances for Families scheme.
Find out if you are eligible to join here.
You will need to sign in to your account before booking tickets.
Further details
The performance also includes free drop-in activities from 10am, free backstage tours (limited places available), and reduced-price snacks and drinks in our bars.
Running time
Acts 1 and 2 will last for about 1 hour and 10 minutes with a short pause between them, followed by an interval of 25 minutes. Act 3 will last for about 35 minutes followed by an interval of 20 minutes. Act 4 will last for about 20 minutes.
Credits
| | |
| --- | --- |
| Choreography | Marius Petipa |
| Choreography | Lev Ivanov |
| Additional choreography | Frederick Ashton |
| Additional choreography | David Bintley |
| Music | Pyotr Il'yich Tchaikovsky |
| Production | Anthony Dowell |
| Designs | Yolanda Sonnabend |
| Lighting design | Mark Henderson |
| Production research | Roland John Wiley |
| Staging | Christopher Carr |