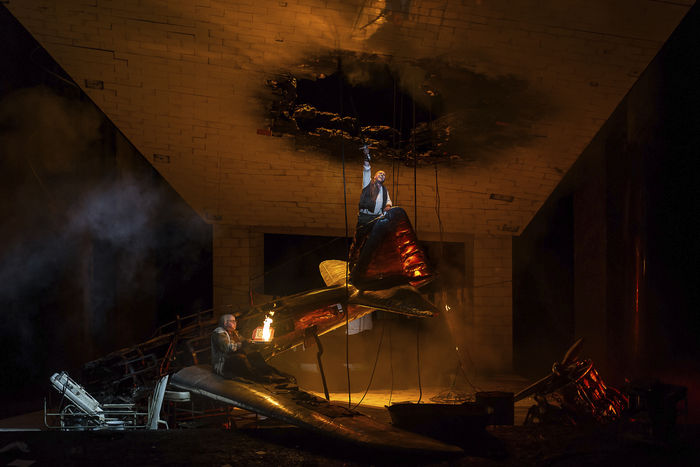 Introduction
Mime has raised young Siegfried to steal an all-powerful ring, guarded by a dragon. But as Siegfried approaches maturity, he yearns to find the truth about his origins and rebels against his dubious guardian.
Background
Richard Wagner's Der Ring des Nibelungen continues with Siegfried's search for his true identity in the third opera of the cycle. Wagner broke off composition at the end of Act II to write Tristan und Isolde and Die Meistersinger von Nürnberg, experimenting both with tragic passion and comedy. Seven years later he completed Act III of Siegfried, which is characterized by music of warm lyricism: Brünnhilde awakes from her sleep and declares her love for Siegfried in one of the composer's most ecstatic duets.
Siegfried contains some of the most comic elements in the Ring cycle, including Siegfried's rustic Forging Song in Act I and playful melodies as he returns home to taunt Mime with a bear. There are also exquisite lyrical passages for orchestra, including evocative Forest Murmurs in Act II and Siegfried's journey to Brünnhilde in Act III. However, in Keith Warner's inventive production, the narrative of the gods' decline is never absent from the stage. A crashed plane evokes Wotan's failed ambitions and recurring images of spirals suggest the DNA helix – an ongoing life force that is greater even than the gods.
The Ring Cycle
This production is part of The Ring Cycle
Thanks to
Originally made possible by
The Dalriada Trust
How to support the Royal Opera House
Running time
About 6 hours | Including two intervals
Act 1 will last for about 1 hour 15 minutes, followed by a 30 minute interval. Act 2 will last for about 1 hour and 10 minutes, followed by an interval of 1 hour and 15 minutes. Act 3 will last for about 1 hour and 30 minutes.
Language
Sung in German with English surtitles
Credits
| | |
| --- | --- |
| Director | Keith Warner |
| Set designs | Stefanos Lazaridis |
| Costume designs | Marie-Jeanne Lecca |
| Lighting design | Wolfgang Göbbel |
| Original Movement Director | Claire Glaskin |
| Video | Mic Pool |
| Video | Dick Straker |
| Associate Set Designer | Matthew Deely |