Rhapsody
7 February - 15 February 2014
|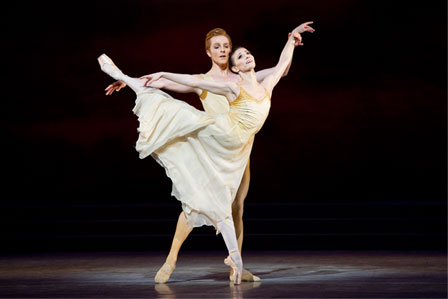 A celebratory showpiece set to sweeping music by Rachmaninoff – Frederick Ashton's ballet is a tribute to virtuoso dance.
When to see it
Part of a mixed Programme, These works are performed together
A celebration of three defining choreographers of The Royal Ballet: Frederick Ashton, Kenneth MacMillan and Wayne McGregor.
Booking for 7 February 2014 - 15 February 2014 opens
Introduction
Rhapsody closely follows the movement of Rachmaninoff's score – by turns playful, romantic, elegiac and elegant.
Background
Rhapsody was created in 1980 and was one of Frederick Ashton's final works – a virtuoso conclusion to his series of non-narrative ballets. It was created on acclaimed Russian dancer Mikhail Baryshnikov, whose personality is at the heart of the work. The male Principal role is characterized by exceptionally fluent turns and lightness of movement. It is twinned with the strength and grace of the ballerina, a role created on the pure, clean style of Lesley Collier.
The ballet is set to Sergey Rachmaninoff's well-known Rhapsody on a Theme of Paganini, which moves from stormy passages to calmer interludes. Rhapsody was presented at the Royal Opera House in honour of Her Majesty Queen Elizabeth The Queen Mother on her 80th birthday.
Credits
| | |
| --- | --- |
| Choreography | Frederick Ashton |
| Composer | Sergey Rachmaninoff |
| Set Designer | Jessica Curtis |
| Costume Designer | Jessica Curtis |
| Lighting Designer | Neil Austin |
| Staging | Christopher Carr |
| Staging | Grant Coyle |
| Lighting | John B Read |