An innovative modern fairytale from Royal Ballet Resident Choreographer Wayne McGregor, in collaboration with award-winning writer Audrey Niffenegger and composer Gabriel Yared.
When to see it
Part of a mixed Programme, These works are performed together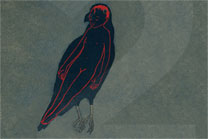 The world premiere of a new work by Royal Ballet Resident Choreographer Wayne McGregor in collaboration with Audrey Niffenegger, and a neoclassical masterpiece by Balanchine.
Booking for 24 May 2013 - 8 June 2013 opens
Introduction
Wayne McGregor and Audrey Niffenegger present a unique modern fairytale.
News and features
Choreographer and author/visual artist rehearse Wayne's new ballet and explain their creative process

Bestselling author talks about her experiences of dance and the inspiration behind her latest work.

From Fear and Loathing in Las Vegas to 1984: The Ballet, your fantasy works.
Background
Raven Girl is Wayne McGregor's seventh work for the main stage at Covent Garden. The ballet is a collaboration with visual artist and award-winning writer Audrey Niffenegger, author of The Time Traveller's Wife, and acclaimed composer Gabriel Yared (The English Patient, The Talented Mr. Ripley, Cold Mountain).
Raven Girl marks McGregor's sixth year as Royal Ballet Resident Choreographer and promises to showcase the groundbreaking and imaginative choreography for which he has become renowned.
Thanks to
Generous Philanthropic Support from
The Taylor Family Foundation, Mr and Mrs Brian Capstick, David Hancock, Linda and Philip Harley, one anonymous donor and The New Ballet Works Syndicate
How to support the Royal Opera House
Running time
As a mixed programme this performance lasts about 2 hours 30 minutes | Including one interval. Raven Girl will last for about 1 hour 15 minutes, followed by a 30 minute interval. Symphony in C will last for about 36 minutes.
Credits
| | |
| --- | --- |
| Choreography | Wayne McGregor |
| Author and Collaborator | Audrey Niffenegger |
| Composer | Gabriel Yared |
| Designs | Vicki Mortimer |
| Lighting design | Lucy Carter |
| Video design | Ravi Deepres |
| Associate Lighting Design | Simon Bennison |