King Priam
13 February - 22 February 2014
|
Linbury Studio Theatre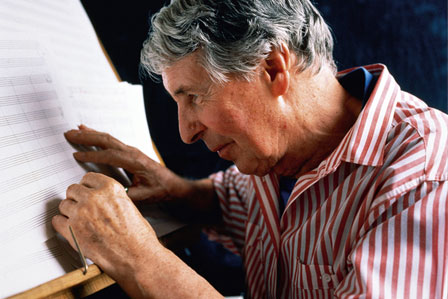 English Touring Opera presents a new production of Tippett's haunting pacifist opera, set during the fall of Troy.
Introduction
King Priam's wife dreams their newborn son will cause his father's death. Torn between love for the child and his duty as a king, Priam reluctantly agrees to the boy's murder. His choice leads to a cataclysmic, bloody war.
Background
Tippett's second opera is a powerful expression of the composer's deeply held pacifism. It was first performed at the 1962 Coventry Festival, commemorating the consecration of the new cathedral and remembering the tremendous global human loss of World War II.
From the bloody story of the Iliad Tippett constructs a harrowing meditation on the trauma of war, and how individual choices can trigger irrevocable horror. Tippett's distinctive musical language entwines breathtakingly beautiful sonorities with the driving pulse of war machines. ETO's original production is ample tribute to this landmark in British opera.
Please note
Pre-performance talk at 6:45pm in the Clore Studio Upstairs. All dates except 15 February. Free to ticket holders, subject to availability, with admission on a first come first served basis. Unreserved seating.