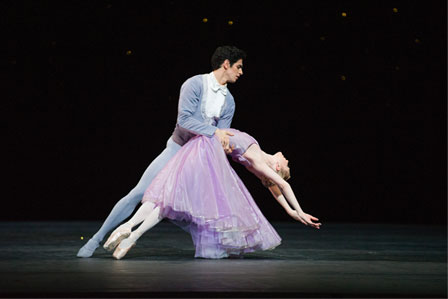 Part of a mixed programme. Jerome Robbins's ballet, accompanied by Chopin's piano nocturnes, hints at chandelier-lit ballrooms and romantic rendezvous.
Introduction
In the Night contrasts three different couples through a series of pas de deux.
Background
Jerome Robbins's bold depiction of the varying shades of romantic love was created for New York City Ballet in 1970. The elegant costumes were designed by Anthony Dowell, who danced in The Royal Ballet's production in 1973. Three pas de deux, each choreographed to a different nocturne by Fryderyk Chopin, depict three very different kinds of relationship.
The first couple take to the stage in violet costumes and perform a flowing duet of tender expressiveness. They are followed by a couple wearing gold and rust colours, who dance a pas de deux of restraint and elegance. The final duet provides a tumultous counterpoint: the ballerina, dressed in a dark dress, swings between explosive anger and desperate entreaty, as she and her partner are caught in a pattern of dispute and reconciliation. The finale brings all six dancers to the stage, concluding this beautiful and complex portrait of love's twists and turns.
Mixed Programme
These works are performed together The Firebird / In the Night / Raymonda Act III
Thanks to
Generous philanthropic support from
The Fonteyn Circle and Mrs Charles Wrightsman
How to support the Royal Opera House
Running time
The Firebird will last for about 47 minutes, followed by an interval of 25 minutes. In the Night will last for about 22 minutes, followed by an interval of 30 minutes. Raymonda Act III will last for about 35 minutes.
Credits
| | |
| --- | --- |
| Choreography | Jerome Robbins |
| Music | Fryderyk Chopin |
| Costume designs | Anthony Dowell |
| Staging | Christine Redpath |