Family Sundays
26 January - 29 June 2014
|
Royal Opera House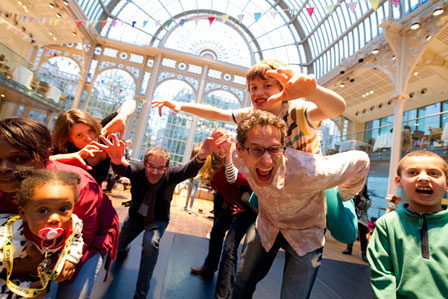 Background
Suitable for children aged six and over. Younger children are welcome but the activities may not be suitable for them. Children under 16 must be accompanied by an adult.
Family Sundays are a new regular event for families to come and explore the Royal Opera House, its artists and the world of opera and ballet. Each Family Sunday will be packed full of different creative and practical activities for all the family, as well as space to relax and enjoy live music in an informal setting.
Drop in to the activities any time between 12pm and 4pm. Last entry to the event is at 3pm. A number of tickets are available to buy on the day.
Tours

Several tours run throughout the day, inviting you and your family to explore some hidden areas of the Royal Opera House. These run at the following times and can be booked with your Family Sunday ticket:
12.30–1.00pm
1.15–1.45pm
2.00–2.30pm
2.45–3.15pm
3.30–4.00pm
Tickets for these tours are limited and available on a first-come-first-served basis when you buy your Family Sunday tickets.Tours will run at future Family Sunday events, so there are plenty of opportunities throughout the year to book onto a Family Sunday tour if you miss out this time around.
Please note
50 day tickets will be available to buy on the day from 10am.
Children must be accompanied by an adult.
Thanks to
Generously supported by
Mrs Lily Safra and The Paul Hamlyn Education Fund
How to support the Royal Opera House
Part of