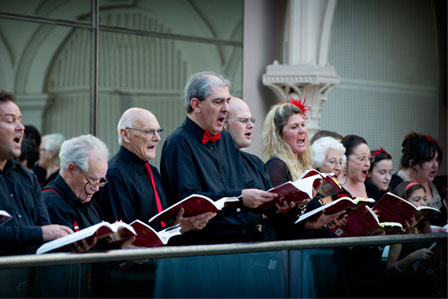 Join the Royal Opera Chorus and the ROH Thurrock Community Chorus for a wonderful performance of opera classics.
Background
Members of the ROH Thurrock Community Chorus join forces with the Royal Opera Chorus for two performances of superb music in two stunning venues. The new National Skills Academy in Purfleet provides the venue for the first concert, while the second takes place in the elegant setting of the Paul Hamlyn Hall at the Royal Opera House. The sparkling repertoire for both evenings includes well-loved operatic numbers by Verdi, Bizet, Rossini, Sullivan and Copland, among many others.
Please note
There are still tickets available for a performance at 7.30pm on 13 October at The Back Stage Centre, High House Production Park in Thurrock, Purfleet.
To book tickets for this performance, please telephone the Box Office on +44 (0) 20 7304 4000 or book in person at the Royal Opera House.
Running times
About 1 hour and 15 mins