Biography
Slovakian dancer Tomas Mock is a Soloist of The Royal Ballet. He trained at The Royal Ballet School and graduated into the Company in 2011, promoted to First Artist in 2015, and Soloist in 2019.
Mock was born in Bratislava. Mock's performances while at the School included dancing with the Company in The Rite of Spring, as well as lead roles in Checkmate and Spring and Fall in the School's annual matinee. On graduation he was awarded the Dame Ninette de Valois Outstanding Graduate of the Year award.
Mock's repertory with the Company includes Tybalt (Romeo and Juliet), Gypsy Girl's Lover (The Two Pigeons), Hilarion (Giselle), Demetrius (The Dream), Prince Gremin (Onegin), Virgil (The Dante Project), Arabian and Mouse King (The Nutcracker) and in Woolf Works, The Sleeping Beauty, Don Quixote, La Valse, Manon, Raven Girl, Alice's Adventures in Wonderland, Swan Lake, After the Rain, Within the Golden Hour and Carbon Life. He has created roles in Alastair Marriott's Connectome, Hofesh Shechter's Untouchable, Wayne McGregor's Woolf Works, Carlos Acosta's Carmen, Robert Binet's Void and Fire and Christopher Wheeldon's Like Water for Chocolate.
News and features
7 November 2017
Join the Company as they rehearse Arthur Pita's new ballet.
12 August 2015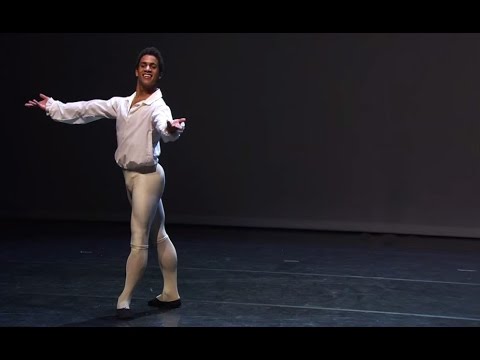 Royal Ballet Soloist Marcelino Sambé performs a selection of terre-à-terre steps as part of a Ballet Evolved Insights session.
29 June 2015
Details of Company changes for the upcoming Season have been announced.
Photos