Biography
American director and scenic designer Thaddeus Strassberger made his Royal Opera debut in 2014, directing two productions in the Royal Opera House: I due Foscari on the main stage and the world premiere of Glare in the Linbury Studio Theatre.
Strassberger studied engineering at the Cooper Union for the Advancement of Science and Art, New York City, and set design on the Corso di specializzazione per scenografi realizzatori at Teatro alla Scala, Milan, on a Fulbright Fellowship. He was awarded the prestigious European Opera Prize in 2005 for his production of La Cenerentola (Opera Ireland and Wiesbaden State Theatre). Other productions include Les Huguenots, Der ferne Klang and Le Roi malgré lui (Bard Summerscape), Hamlet and Nabucco (Washington National Opera), The Rape of Lucretia and Le nozze di Figaro (Norwegian National Opera), La fanciulla del West (Innsbruck and Montréal) and Turandot (Augsburg). His production of Rossini's La gazzetta for the Rossini Festival in Wildbad, Germany, won nominations for Best Production and Best Direction from Opernwelt Magazine.
Strassberger's other engagements include Satyagraha (Ekaterinburg State Opera, the first production of a Glass opera in Russia), The Voyage of Edgar Allen Poe (Braunschweig), Don Giovanni (Norwegian National Opera) and The Oresteia (Bard Summerscape and Mariinsky Theatre).
News and features
7 November 2014
Our quick guide to this 'robot opera' that questions what it is that makes us human, and explores themes of trust, reality and loneliness.
8 October 2014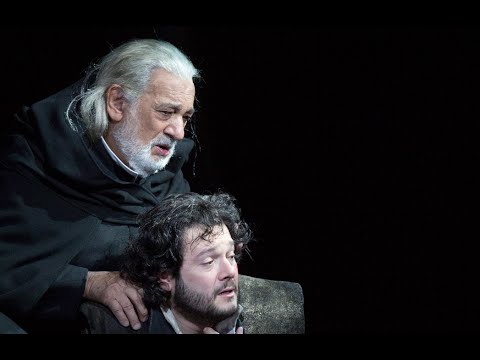 The American director talks about working with Plácido Domingo and what an opera about a 15th-century Venetian doge can tell us about our own lives.
3 October 2014
The city has an important association with the art form that reaches from I due Foscari to Death in Venice.