Biography
Canadian dancer Tara-Brigitte Bhavnani is a First Artist of The Royal Ballet. She joined the Company in 2002 and was promoted to First Artist in 2007.
Bhavnani started training at the age of two. She studied at Canada's National Ballet School aged 10–18. She represented her country at the first International Congress of Classical Contemporary Ballet in Mexico (2000), and was awarded the Peter Dwyer scholarship for excellence in dance and the 2001 Erik Bruhn Memorial Award. Upon graduating in 2001 she spent six months at the Paris Opera Ballet School before joining The Royal Ballet. Bhavnani's repertory with the Company includes Empress Elisabeth (Mayerling), Countess and Fairy of the Crystal Fountain (The Sleeping Beauty), Beautiful Tsarevna (The Firebird), Bathilde (Giselle), Rosaline (Romeo and Juliet), Fairy Spring and Fairy Godmother (Cinderella), Pavlova's Dragonfly solo, Arabian Dance (The Nutcracker), Nymph (Daphnis and Chloë), Spanish Dance and Acts II and IV solo Swan (Swan Lake), 'Phlegmatic' (Four Temperaments), white couple (Les Patineurs), lead d'Jampée and pas d'action (La Bayadère), Courtesan (Manon) and Katia (A Month in the Country). She created roles in 'Trespass' and 'Diana and Actaeon' (Titian: Metamorphosis 2012), Sensorium, Alice's Adventures in Wonderland and The Tsarina's Slippers (The Royal Opera).
Bhavnani modelled for designer Jayne Pierson in London Fashion Week 2011, and regularly takes part in swimathons to raise money for charity. She is a trained ballet teacher with both AISTD and RBS DipPDTC qualifications.
Videos
News and features
5 October 2017
A new YouTube series covers some of the basics of ballet, presented by The Royal Ballet's Tara-Brigitte Bhavnani.
7 August 2014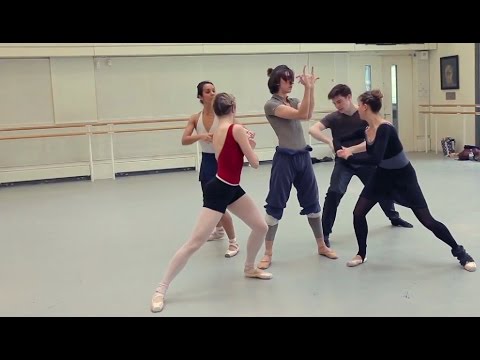 Design will feature collaboration with Turner Prize-winning artist Chris Ofili, who will paint directly onto dancers.
Photos