Biography
Japanese dancer Ryoichi Hirano is a Principal of The Royal Ballet. He joined the Company as a Prix de Lausanne apprentice in 2001 and became an Artist in 2002, promoted to First Artist in 2007, Soloist in 2008, First Soloist in 2012 and Principal in 2016.
Hirano was born in Osaka and trained at Setsuko Hirano Ballet School. Awards include the 2001 Prix de Lausanne Gold Medal. His repertory with The Royal Ballet includes Albrecht (Giselle), Prince Florimund (The Sleeping Beauty), Leontes and Polixenes (The Winter's Tale), Espada and Gamache (Don Quixote), Tybalt, Paris and Romeo (Romeo and Juliet), Onegin and Prince Gremin (Onegin), Jean de Brienne (Raymonda Act III), Colonel 'Bay' Middleton and Crown Prince Rudolf (Mayerling), Prince (The Prince of the Pagodas, The Nutcracker), Rasputin and Officer (Anastasia), Witch (Hansel and Gretel), Robert Wood (Sweet Violets), Benno (Swan Lake), Black Knight (Checkmate), Dr Samuel-Jean Pozzi (Strapless), Soldier (Different Drummer), Human ('Still Life' at the Penguin Café), Fate (Acosta's Carmen), Creature (Frankenstein), Solor, Lt. Colonel Vershinin (Winter Dreams), Ivan Tsarevich (The Firebird) and roles in Elite Syncopations, After the Rain, Woolf Works, Song of the Earth, The Two Pigeons, Gloria, Concerto, Chroma, Viscera, 'Emeralds' and 'Diamonds' (Jewels), Serenade, DGV: Danse à grande vitesse, Scènes de ballet, Voluntaries (pas de trois), Cinderella, Aeternum Within The Golden Hour, Multiverse and Medusa.
Hirano's role creations for the Company include in Asphodel Meadows and in Wayne McGregor's The Dante Project, Infra and Obsidian Tear.
News and features
20 March 2017
Principal casting has been amended for three performances of George Balanchine's ballet.
10 June 2016
Promotions and joiners have been announced for The Royal Ballet's 2016/17 Season.
12 October 2015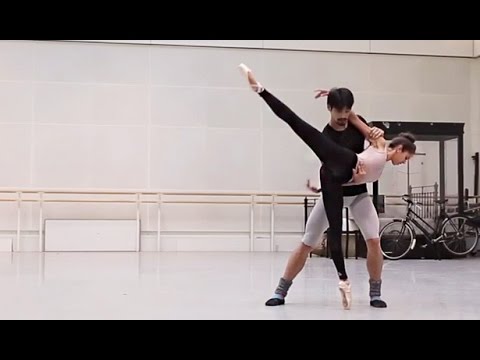 The Royal Ballet Soloist is relishing performing in Wayne McGregor's fairytale-inspired ballet.
Photos