Biography
American choreographer and director Patricia Neary is an Ambassador for the Balanchine Trust. She danced with New York City Ballet 1960–68 and now works around the world staging George Balanchine's works. For The Royal Ballet she has staged works including Ballet Imperial, Serenade, Apollo, Agon, Prodigal Son, The Four Temperaments, Symphony in C, Theme and Variations and Jewels.
Neary was born in Miami and joined the National Ballet of Canada aged 14. Three years later she moved to NYCB, where her height, speed and attack proved a perfect fit for Balanchine's style. She danced much of the Balanchine repertory and created two roles for him, in Raymonda Variations (1961) and 'Rubies' (Jewels, 1967). She also danced many principal roles in works by Jerome Robbins, Antony Tudor, John Taras and Merce Cunningham. In 1968 she joined Geneva Ballet as ballerina and began staging Balanchine's repertory; she also danced as a guest artist in Stuttgart, Hamburg, Hanover and Berlin. Neary was Assistant Director of Berlin Ballet 1970–73, Director of Geneva Ballet 1973–8 (where she collaborated with Balanchine as Artistic Advisor), Director of Zürich Ballet 1978–86, Director of La Scala Ballet, Milan, 1986–7 and Artistic Director of Ballet British Columbia 1989–90.
She has worked for the George Balanchine Trust since 1988, staging his works throughout Europe, the USA and Asia. She has also choreographed numerous works for many ballet and opera companies including Variations concertantes for Ballet British Columbia.
News and features
3 March 2017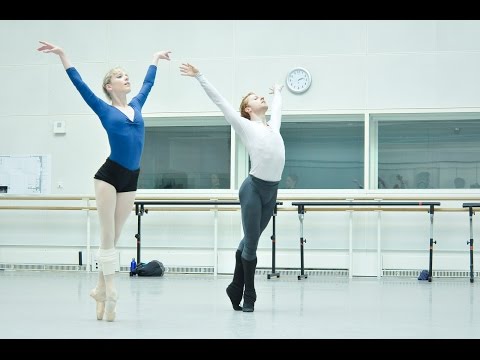 Principals of The Royal Ballet rehearse Balanchine's sparkling abstract work.
18 May 2010
Behind-the-scenes in rehearsals for the Mixed Programme.
26 October 2009
Royal Ballet Masterclasses offer an insight into the rehearsal process