Biography
American dancer Meaghan Grace Hinkis is a First Soloist of The Royal Ballet. She joined the Company in 2011 as an Artist and was promoted to First Artist in 2012, Soloist in 2015, and First Soloist in 2021.
Hinkis grew up in Connecticut and trained in ballet, jazz and tap locally with her sister before focussing on ballet from the age of 11. She trained locally with the Hartt School and privately with Fabrice Herrault in New York. At the age of 13, she won a scholarship at the Youth America Grand Prix to study at the Jacqueline Kennedy Onassis School of American Ballet Theatre. Hinkis entered the ABT Studio Company (now ABT II) in 2007 and graduated into ABT in 2010, where her repertory included a leading role in Alexei Ratmansky's Dumbarton and a role creation in his The Nutcracker.
Hinkis's repertory with The Royal Ballet includes Princess Stephanie (Mayerling), Lescaut's Mistress (Manon), Olga (Onegin), Elizabeth Lavenza (Frankenstein), Clara (The Nutcracker), Sweetheart Couple (Elite Syncopations), Emily Dimmock (Sweet Violets), Dorabella (Enigma Variations), Vera (A Month In The Country), Marie (Anastasia), Florestan's Sister and Princess Florine (The Sleeping Beauty), Zulme and pas de six (Giselle), Aurora (Coppélia), Amour and Kitri's friend (Don Quixote) and Principal roles in Dances at a Gathering, Within The Golden Hour, Voices of Spring, Tarantella, Swan Lake, Raymonda, Tetractys, Concerto, Asphodel Meadows, Viscera, Gloria, Infra, The Concert, and 'Emeralds' (Jewels). Her role creations include Justine (Frankenstein), Aeternum, Woolf Works, The Illustrated 'Farewell', Void and Fire and The Dante Project. In addition to her awards at the Youth America Grand Prix she was a medal winner at the 2009 Helsinki International Ballet Competition.
News and features
28 November 2017
When it comes to creating and customizing pointe shoes for performance, every millimetre counts.
28 September 2016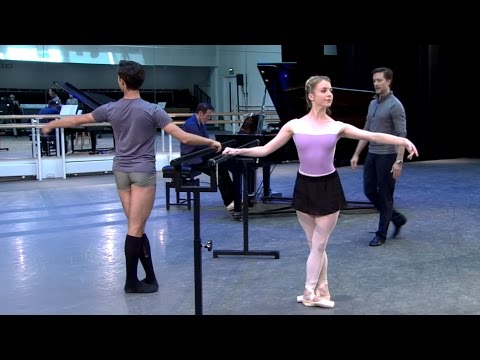 Learn five exercises with members of The Royal Ballet in preparation for our live class during World Ballet Day on 4 October 2016.
29 June 2015
Details of Company changes for the upcoming Season have been announced.
Posts by Meaghan Grace Hinkis
13 July 2017
The Soloist dancer on meeting a dance legend, and performing two of the Company's most acclaimed recent works Down Under.
26 June 2015
The American First Artist reflects on dancing on the stage she grew up watching, and the buzz of staging work by Britain's top choreographers in the Big Apple.
Photos