Biography
Russian composer Igor Stravinsky (1882–1971) was one of the most influential composers of the 20th century. He was particularly acclaimed for his many stage works, which include the original ballets The Firebird, Petrushka, The Rite of Spring, Apollo, Scènes de ballet and Agon and the opera The Rake's Progress.
Stravinsky was born in Oranienbaum near St Petersburg. His father Fyodor was one of the leading bass-baritones of his day. In 1901 Stravinsky entered St Petersburg University as a law student and in 1902 met Nikolay Rimsky-Korsakov, with whom he would study until Rimsky-Korsakov's death in 1908. That year Stravinsky's Fireworks caught the attention of Sergey Diaghilev and heralded the beginning of a rich partnership with Diaghilev's company the Ballets Russes, for which Stravinsky composed the highly innovative ballets The Firebird, Petrushka, The Rite of Spring, Les Noces and Pulcinella, among others. Stravinsky left Russia in 1914, settling first in Switzerland before moving to France in 1920. From this time he began to move away from the folk influence of his early career and instead looked to Russian classicism, with the opera Mavra marking the start of his neoclassical period. Major neoclassical works include the Octet, Oedipus rex and Apollo. In 1939 he moved to the USA, where he continued to develop his creative relationship with choreographer George Balanchine in Orpheus and Agon. From 1958 Stravinsky explored serialism, in works such as Threni, The Flood and Abraham and Isaac. He composed his last major work, Requiem Canticles, in 1966.
Stravinsky was unparalleled in his ability to absorb and master an array of styles, always retaining his unmistakable individuality.
News and features
10 April 2017
The Royal Ballet's performance of this delightful three-act work will be broadcast from the Royal Opera House to cinemas around the world.
23 March 2017
Our quick introduction to this gorgeous three-act abstract ballet, inspired not only by gem stones but by the music of Fauré, Stravinsky and Tchaikovsky.
3 March 2017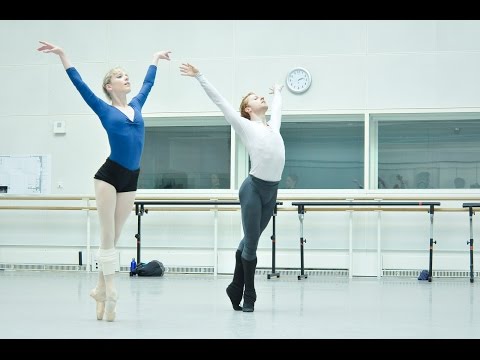 Principals of The Royal Ballet rehearse Balanchine's sparkling abstract work.
Photos