Biography
Canadian dancer Donald Thom is a former dancer of The Royal Ballet. He trained at The Royal Ballet Upper School and graduated into the Company in 2012, promoted to First Artist in 2015 and retiring from the Company later that year.
Thom was born in Kanata and trained at the Linda Jamieson School of Dance before moving to London to study at The Royal Ballet Upper School. In 2008 he was awarded several international scholarships at the Youth America Grand Prix and in 2009 achieved the Royal Academy of Dance Solo Seal Award.
Thom's repertory with the Company included Lensky (Onegin), the Mad Hatter (Alice's Adventures in Wonderland), Sandman (Hansel and Gretel), pas de six (Giselle) and roles in Scènes de ballet, Connectome, Mayerling, Raymonda Act III, The Nutcracker, La Valse and Concerto. He created roles in Untouchable and Woolf Works.
News and features
12 August 2015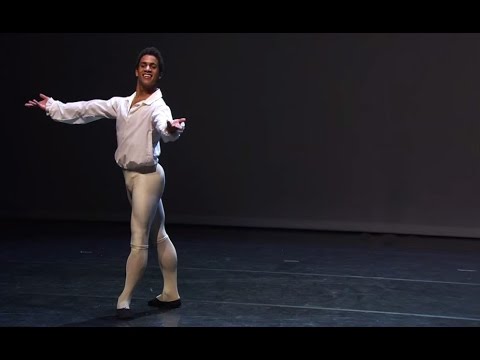 Royal Ballet Soloist Marcelino Sambé performs a selection of terre-à-terre steps as part of a Ballet Evolved Insights session.
29 June 2015
Details of Company changes for the upcoming Season have been announced.
Photos