Biography
Brian Maloney is Ballet Rehabilitation Specialist and Class Teacher of The Royal Ballet. He joined the Company as an Artist in 2000 and was promoted to First Artist in 2002 and Soloist in 2003. He retired as a dancer in 2013 and went on to work with the Company's Sport Science team, taking his current position at the start of the 2015/16 Season.
Maloney was born in California and trained at the Kirov Academy of Ballet. He was a member of Le Jeune Ballet de France, where roles included the pas de deux from La Fille mal gardée and in Napoli, Suite en blanc and several contemporary works. Maloney's Royal Ballet repertory included Gurn (La Sylphide), pas de six and Hilarion (Giselle), Bronze Idol and Magdaveya (La Bayadère), pas de trois (Swan Lake), Hans-Peter/Nutcracker (The Nutcracker), Bluebird (The Sleeping Beauty), Boy (La Fête étrange), Colas (La Fille mal gardée), blue boy (Les Patineurs), Eros (Sylvia), William Meath Baker (Enigma Variations), Mercutio (Romeo and Juliet), Lescaut (Manon), Gypsy (Ek's Carmen), Lewis Carroll/White Rabbit (Alice's Adventures in Wonderland), Witch (Hansel and Gretel) and roles in Agon, Ondine, La Valse, Les Rendezvous, Concerto (First Movement), The Vertiginous Thrill of Exactitude, Infra and Fool's Paradise. He created roles in Christopher Bruce's Three Songs – Two Voices and Christopher Wheeldon's 'Fire' (Homage to The Queen) and Tryst.
In his current role Maloney regularly leads morning class, and works with dancers in the healthcare suite.
News and features
28 September 2016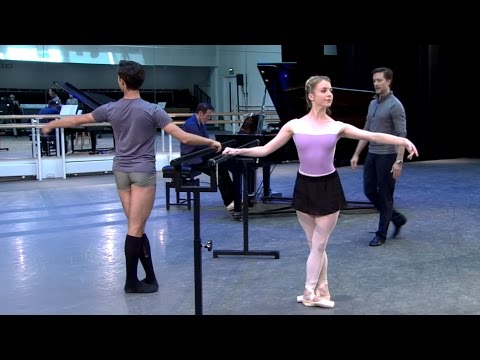 Learn five exercises with members of The Royal Ballet in preparation for our live class during World Ballet Day on 4 October 2016.
10 October 2014
Another chance to watch Royal Ballet daily class in full, rehearsals, interviews and more.
8 November 2013
Christopher Wheeldon, Edward Watson and Natalia Osipova among those nominated.
Photos