Biography
In the 2013/14 Season Alison Chitty creates the designs for Stephen Langridge's new production of Parsifal for The Royal Opera. Chitty's previous work for The Royal Opera includes designs for Langridge's production of The Minotaur (2008), for Di Trevis's production of Gawain (1991), for Francesca Zambello's productions of Billy Budd (1995), Arianna (1995) and The Bartered Bride (1998) and for Daniele Abbado's production of Nabucco (2013).
Chitty has worked for over forty years as a designer. She studied at Central Saint Martins College of Arts and Design and was resident designer at the Victoria Theatre, Stoke-on-Trent, 1970–79. She has regularly collaborated with Peter Hall, credits including his productions of Antony and Cleopatra and The Bacchae, and with Mike Leigh, working as production designer on his films Life is Sweet, Naked and Secrets and Lies (winner of the Palme d'Or). She has worked extensively at the Royal Shakespeare Company, for English National Opera, Opera North and Santa Fe Opera, and at the National Theatre, where she was resident designer for eight years and was appointed an associate in 2003. In 2010 the National Theatre hosted a retrospective exhibition of her works.
Chitty has been Director of the Motley Theatre Design Course since 2000 and was awarded an honorary doctorate from the University of Staffordshire in 2005. She has won two costume design Olivier awards, for Remembrance of Things Past (2001) and for The Voysey Inheritance (2007). She received an OBE in 2004.
Videos
News and features
19 December 2013
A masterclass from legendary Wagnerian John Tomlinson, a musical introduction from Antonio Pappano, and the creative team on their production.
11 January 2013
As the mythical Minotaur returns to the main stage, an introduction to Harrison Birtwistle's acclaimed opera.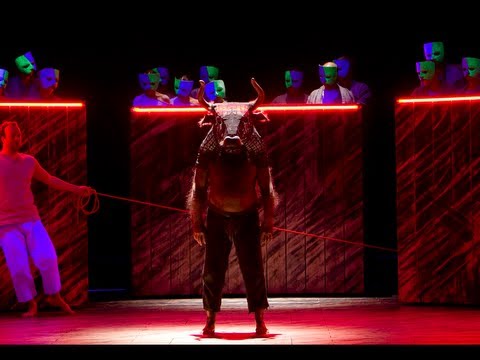 21 August 2012
Harrison Birtwistle's operatic take on the Ancient Greek myth returns to The Royal Opera.