Biography
Australian dancer Alexander Campbell is a First Soloist of The Royal Ballet. He trained at The Royal Ballet School and on graduation joined Birmingham Royal Ballet. He returned to The Royal Ballet as a Soloist in 2011 and was promoted to First Soloist the following year. His repertory with the Company includes Lescaut (Manon), Basilio (Don Quixote), Bratfisch (Mayerling), Lewis Carroll/White Rabbit and Magician/Mad Hatter (Alice's Adventures in Wonderland), Colas (La Fille mal gardée), Young Man (The Two Pigeons), Bluebird and Florestan (Sleeping Beauty), Hans-Peter/Nutcracker and Prince (The Nutcracker), Mercutio (Romeo and Juliet), Bronze Idol (La Bayadère), Jack (Sweet Violets), Emble (The Age of Anxiety), Texan Kangeroo Rat ('Still Life' at the Penguin Café) and roles in 'Emeralds' (Jewels), Voices of Spring, Concerto, In the Night, Polyphonia, Birthday Offering, Requiem, Connectome, Song of the Earth, Woolf Works and Within the Golden Hour. His role creations include Henry Clerval (Frankenstein).
Campbell was born in Sydney and trained there at the Academy Ballet before joining The Royal Ballet School. In 2003 he won silver medal at the Genée International Ballet Competition and was a finalist in the Prix de Lausanne. In 2005 he graduated into BRB and was promoted to first artist in 2005, soloist in 2007 and first soloist in 2009, before joining The Royal Ballet. During his time with BRB his repertory included Romeo and Mercutio, Franz (Coppélia), Prince (The Sleeping Beauty, The Nutcracker and David Bintley's Cinderella) and Petrushka, and he created the roles of Young Man (Michael Corder's Le Baiser de la fée) and Celeritas2 (Bintley's E=mc2). He also appeared as Mercutio for 'Ballet Hoo!', broadcast on Channel 4. He continues to make regular guest appearances with Australian Ballet and BRB.
There is a heritage of dance in Campbell's family: his grandparents were both dancers with the then Ballet Rambert in the 1950s.
Videos
News and features
2 October 2015
Five hours of rehearsals, interviews and behind the scenes insights from The Royal Ballet.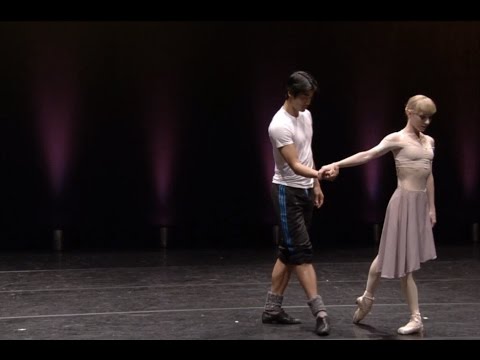 9 September 2015
Insights event features Sarah Lamb and Ryoichi Hirano rehearsing a pas de deux, and Alexander Campbell being coached through Mercutio's solos.
3 June 2015
The Student Ambassadors teamed up with the UK's largest university dance competition to offer a once-in-a-lifetime opportunity to go behind the scenes at a ballet world premiere.
Photos