The Firebird / In the Night / Raymonda Act III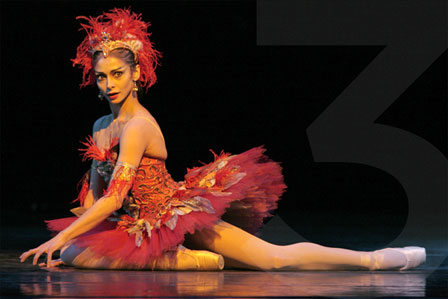 Background
This year, 2012, marks the centenary of The Firebird's first performance at Covent Garden by Serge Diaghilev's Ballets Russes. The ballet was choreographed by Michel Fokine and the cast of the 1912 performance included the legendary Tamara Karsavina, who created the role of The Firebird. Karsavina later coached Margot Fonteyn in the title role, when it entered the repertory of The Royal Ballet in 1954. This mixed programme offers the opportunity to see The Firebird's thrilling virtuosity performed by the current stars of the Company.
Romance is in the air in Jerome Robbins's In the Night. Three couples in turn dance contrasting pas de deux to the accompaniment of rapturous Chopin Nocturnes. Their movements are tender, restrained and emotional, in a contemporary reflection on the twists and turns of love. Rudolf Nureyev's version of Marius Petipa's Raymonda Act III is a dazzling showpiece. The ballet is set to spirited music in the Hungarian style by Alexander Glazunov. With brilliant solos, impressive period costumes and opulent sets designed by Barry Kay, it is the perfect ending to this magnificent Royal Ballet Christmas treat.
Mixed programme
These works are performed together:
Good is pitted against evil in Mikhail Fokine's dramatic tale of a magical Firebird – a classic of 20th-century ballet.

Jerome Robbins's ballet, accompanied by Chopin's piano nocturnes, hints at chandelier-lit ballrooms and romantic rendezvous.

The final act of Raymonda contains some of the greatest choreography in Russian ballet and was adapted by Rudolf Nureyev.