The Dream / New Marriott / The Concert
31 May - 13 June 2014
|
Main Stage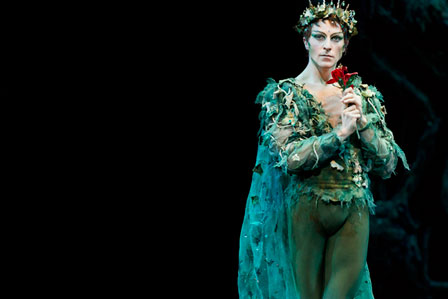 When to see it
Booking for 31 May 2014 - 13 June 2014 opens
Background
This Royal Ballet mixed programme opens with a classic by Frederick Ashton, based on Mendelssohn's delicate score and the plot of Shakespeare's A Midsummer's Night Dream. In a magical nocturnal world, Oberon and Titania play games with unwitting mortals, while the mischievous Puck intensifies love's comic confusions. The ballet's fleet footwork and gentle humour show Ashton at his brilliant best.
A new work for The Royal Ballet by Alastair Marriott is at the heart of the evening. Following last year's successful 'Trespass' – with Christopher Wheeldon as part of Metamorphosis: Titian 2012 – Marriott's fifth work for the Company on the main stage is an exciting collaboration with acclaimed designer Es Devlin and lighting designer Bruno Poet.
The programme ends in superb style with The Concert. This humorous, beautifully crafted ballet by Jerome Robbins is a superbly witty spoof of a classical music concert. As a pianist performs Chopin, the audience allow their minds to wander and their resulting fantasies take flight.
Thanks to
Generous philanthropic support from
Lindsay and Sarah Tomlinson and The Fonteyn Circle
Mixed programme
These works are performed together:
The world premiere of a new work by acclaimed choreographer and Royal Ballet Principal Character Artist Alastair Marriott.

Frederick Ashton's delightful interpretation of Shakespeare's A Midsummer Night's Dream is a classic of The Royal Ballet.

Jerome Robbins holds a mirror up to audiences everywhere in this exuberant comic ballet, set to Chopin's well-loved piano music.