Serenade / Sweet Violets / DGV
14 May - 26 May 2014
|
Main Stage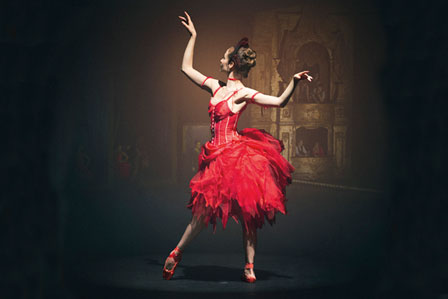 News and features
The choreographer on the inspiration for his new short ballet, Sweet Violets.

Tweets and vox pops about the new Wheeldon, Scarlett and McGregor triple bill.
Background
The opening of George Balanchine's Serenade is unforgettable: on a blue-lit stage, women stand motionless in filmy blue dresses with single arms held high. Balanchine's ethereal choreography is the perfect complement to Tchaikovsky's soaring Serenade for Strings, both atmospheric and emotionally subtle.
A seedy Victorian underworld provides the setting for Liam Scarlett's Sweet Violets. His inspiration is the work of artist Walter Sickert, whose 'Camden Town Murder' paintings were based on the gruesome murders of Jack the Ripper. Scarlett's classical sensibility teamed with a deep emotional punch makes Sweet Violets a disturbing and enthralling experience.
Hurtling forward into a 21st-century aesthetic, Christopher Wheeldon's award-winning DGV: Danse à grande vitesse brings the programme to an exhilarating close. The ballet was inspired by the French high-speed train line TGV and is set to a propulsive score by Michael Nyman. Wheeldon's choreography is a modern paean to our hi-tech age – brittle and brilliant.
Mixed programme
These works are performed together:
The music of Tchaikovsky is partnered with sublime choreography in one of Balanchine's earliest and best-loved works.

Murder, sexuality and art are the potent themes of Liam Scarlett's ballet, inspired by Walter Sickert's paintings.

Christopher Wheeldon channels the hurtling momentum of Michael Nyman's music in choreography of thrilling propulsion.