Student Standby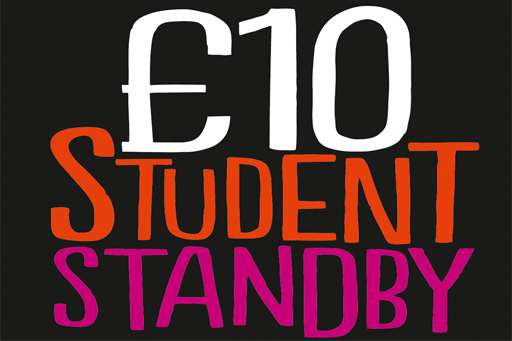 The Student Standby scheme is generously made possible by the Bunting family and the Robey Family.
Love live performance? Then you'll love the £10 ROH Student Standby! The Royal Opera House offers unsold tickets for The Royal Ballet and The Royal Opera to students for the bargain price of £10.
This fantastic £10 Student Standby offer is available to any students who sign up to the scheme and who have a valid Student Identification Card.
But it doesn't stop there! By joining the Royal Opera House Student Standby ticket scheme, not only do you get access to last minute ticket offers, you also get the access to two Royal Ballet performances and two Royal Opera performances dedicated to you at a special discounted price.
The Royal Opera House also runs a Student Ambassador scheme. Find out more in our News & Features section.
How does the Student Standby scheme work?
• Once you have signed up to the Student Standby scheme we will then be able to contact you about the availability of the Royal Opera House £10 Student Standby tickets. We will provide you with a booking link and/or code to activate the discount on our online booking pages.
• When signing up online please give us as much information about yourselves as possible, including the date that you will graduate, as we will continue to offer you discounted tickets whenever we can.
• When tickets become available we will notify you a minimum of 24 hours in advance of the performance.
• When you are notified of a Student Standby offer we will let you know which performance is available for standby booking. We will send you an email and a link to our online booking site with full instructions on how to make your booking. You will have to sign in before purchasing tickets.
• The tickets will be sold on a first-come-first-served basis, so book quickly to avoid disappointment. You may have to be patient as you seek out the available seats on our seating plan. Please remember that the Royal Opera House £10 Student Standby tickets are unsold tickets and therefore are not guaranteed for any production. You must be able to provide a valid student ID when collecting your ticket. Please note if you are unable to provide valid Student ID when collecting your ticket you will not receive a refund.
• Once booked your tickets will be available for collection from the pre-paid ticket section at the Box Office.
• If you're picking up your tickets before the performance, please make sure you do this in plenty of time before the start of the show otherwise you may get stuck in a very long queue!
Dedicated Student Performances
• For each booking period we will send you an email to alert you to the special dedicated student performances.
• For each of these performances, the entire amphitheatre will be sold to members of the Student Standby scheme.
• You will be invited to purchase up to 2 tickets per person and the performances will be sold online on a first come first served basis.
We look forward to seeing you at the Royal Opera House!