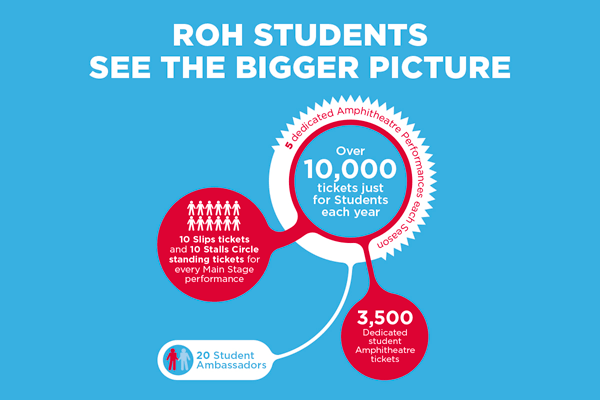 Become an ROH Student and join our 15,000 students already making the most of the scheme. It is absolutely free to join and could be the start of a fantastic journey into opera and ballet (valid Student ID required for benefits listed below).
What is in it for me?
Over 10, 000 dedicated Student tickets
1 entire performance of Anna Nicole
10 Slips and Standing tickets for every single main stage performance
4 Dedicated Amphitheatre performances
40% off Linbury Studio Theatre tickets
Dedicated booking days for each Booking Season
Last minute £10 Student Standby tickets
Discounts in our bars and reduced price programmes at Student Amphitheatre
A price range from £1 to £25 on Student Tickets
ROH Students is generously made possible by the Bunting Family and Simon Robey.

So how do I book?
It is easy – once you have registered with us just keep an eye on your inbox. We will email you a reminder on each of these four Student Booking Days:
14 July for the Autumn Season | 20 October for the Winter Season | 26 January 2015 for the Spring Season | 30 March 2015 for the Summer Season
The Nitty Gritty
To claim your Student tickets, you will need to 'Sign in', so that we recognize that you are a Student member.
You will then be able to select your ticket(s) for the performance of your choice including the Student Amphitheatre Performances  as well as the 10 Upper/Lower Slips tickets and 10 Stalls Circle Standing tickets for all the other Main Stage performances in the booking period.
When selecting your tickets for performances please make sure that you click on 'Web Student Standby' to ensure that you don't pay more than you have to!
What you need to know
Only Students registered and signed in with us will be able to see these tickets so if you can't find any for the performance you are looking at it is quite likely they have sold out – but please do go on looking in the Lower/Upper Slips and Stalls Circle Standing.
Tickets for Amphitheatre Student Performances are limited to two tickets per student card as normal.
Upper/Lower Slips and Standing place tickets are limited to two per student card per performance as well; however you can buy up to nine student tickets online per performance if organising a group.
To collect more than one ticket for a single performance, you will need to show a valid Student Card for every two tickets purchased.
Please remember that there are often long queues for student tickets on the day of the performance, particularly for the Amphitheatre-only opportunities, so please try to collect early, or pop by the Box Office in advance of the date to pick up your tickets at a quiet time as this will help us and greatly reduce your queuing times.
Please remember that you will need to have a valid Student ID in September.
What can I book?
 Dedicated Student Amphitheatre Performance tickets:
Advance Slips and Standing tickets:
You will have one week after receiving the booking email to make your selection of tickets, and there will be an entire booking period to choose from – any performance on any date!
There are 20 tickets allocated to Students for each show – 10 seats in the upper or lower slips (Amphitheatre level), and 10 standing places, chiefly placed at the back of the Stalls Circle.
£10 Student Standby tickets:
We will contact you by email a minimum of 24 hours in advance of the performance which has a £10 Student Standby offer
Booking is online only and tickets are sold on a first-come first-served basis, so book quickly to avoid disappointment.
For more information on booking tickets, see our terms and conditions.
Become a Student Ambassador
Every Season, we invite students from across the UK to apply to become Ambassadors for the ROH.
Contribute your unique vision and ideas to improve our student offers, share the love and to represent your student body by feeding back comments and suggestions to us and to promote our student opportunities on your campuses. Keep an eye out for our appeal for the new batch of Ambassadors this summer!
Find out more about this year's ROH Student Ambassadors in our News & Features section.
Follow us
We also announce Student offers on Twitter and Facebook #ROHstudents.
---
Terms and Conditions:
Advanced Booking Student Amphitheatre Performances, slips and standing tickets
Limited to two tickets per valid student card per performance. However, you can purchase as many tickets as you like over the booking period for different performances. Please note that if you buy more than one ticket per performance, you will be required to show a different valid student card for every two tickets collected.
£10 Standby tickets
Tickets are sold on a first-come first-served basis. Please remember that Royal Opera House £10 Student Standby tickets are unsold tickets and therefore are not guaranteed for any production.
You are permitted to purchase two tickets per student card, and you must be able to provide a valid student ID when collecting your ticket. Please note that if you are unable to provide valid Student ID when collecting your ticket you will not receive a refund.
Tickets will be available for collection from the pre-paid ticket section at the Box Office. Please make sure you pick up tickets well before the start of the show otherwise you may get stuck in a longqueue!