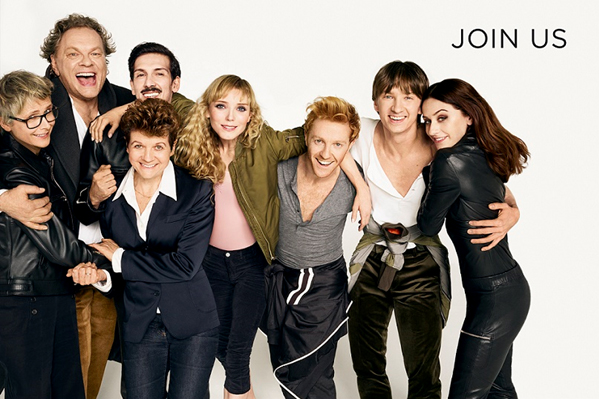 From left to right: director Katie Mitchell, baritone Michael Volle, choreographer Arthur Pita, conductor Julia Jones and Principal dancers with The Royal Ballet Sarah Lamb, Steven McRae, Vadim Muntagirov and Marianela Nuñez © 2017 ROH. Photographed by Phil Poynter.
We are now recruiting Student Ambassadors for our 2017/18 Season and are on the lookout for innovative and enthusiastic students to promote ROH Students, help shape our offering for students and assist on delivering Learning and Participation events.
You don't need to know anything about opera or ballet to be a Student Ambassador for the Royal Opera House. If you have creative ideas, are enthusiastic, self-motivated and enjoy working independently, we would love to hear from you.
As an ROH Student Ambassador you will be required to:
attend five training and consultation days throughout the Season at the Royal Opera House, receiving training from Royal Opera House staff and consultants on marketing, social media, arts education and opera and ballet
turn your own creative marketing and promotional ideas for ROH Students and ROH Cinema screenings into reality on your campus, running at least one campus event a term
provide us with a brief monthly report including new ideas to develop ROH Students
create audio and film material to build a media bank to promote ROH Students
contribute to the digital presence of the Royal Opera House across its many platforms
write reviews, blogs and articles about the Royal Opera House and ROH Students
Being an ROH Student Ambassador also gives great opportunities to:
access complimentary and discounted tickets to Royal Opera House productions and Student Insights
meet and network with arts professionals
learn about opera and ballet from the inside out
see the internal workings of an influential arts venue
stand out from the crowd with unusual work experience
But don't just take our word for it:
'I loved being able to meet and learn from a wide range of staff at the Royal Opera House who taught us about marketing, advertising, audience engagement, digital technology and Learning and Participation events as well as giving backstage insight into the productions.
'I organized group trips to live cinema screenings, Nutcracker jumping competitions as well as trips to the Royal Opera House for students to see their first ever ballet or opera. It's great to be a part of a group of ambassadors who share ideas on how to engage the next generation of ballet and opera lovers.' – Elodie Lafosse, University of Surrey, Student Ambassador 2016/17
Start your career having played a role in one of the biggest arts organizations in the country by becoming an ROH Student Ambassador.
How to apply
Send your CV, a paragraph on why you think you would make a good Student Ambassador and the dates of your university's freshers' week to studentambassadors@roh.org.uk by Sunday 16 July.
Applications are open to students from across the UK.
Long-listed applicants will be notified by Friday 28 July and will be invited to join us for a day at the Royal Opera House on Saturday 2 September to be introduced to the team, and learn more about ROH Students.
You will be set a task to undertake during freshers' week and to report back on. The final list of Student Ambassadors for the 2017/18 Season will be confirmed after freshers' week.
Travel expenses will be covered. We require all ROH Student Ambassador applicants to be signed up to our Student Standby scheme so if you are sharing this with friends please don't forget to tell them to register first.
ROH Students is generously supported by the Bunting Family and Sir Simon Robey.