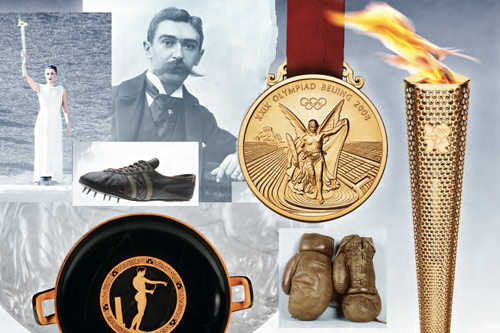 The Olympic Journey: The Story of the Games starts in Greece almost 3000 years ago when the first Olympic Games were staged on the ancient plains of Olympia.  Under the watchful eyes of the gods, it was here that the greatest athletes came to compete for honour and glory. The Games continued for nearly 12 centuries until 393 AD when Emperor Theodosius decreed that all such 'pagan cults' be banned. 
Over the centuries many people tried and failed to revive the Games until Baron Pierre de Coubertin founded the modern Olympics in 1894 in Paris, establishing the International Olympic Committee with the aim of drawing together sport, culture and education. At the heart of his vision were the key values still held by the Olympic Movement today; excellence, respect and friendship.
The first modern Olympics were staged in Greece in 1896 and attracted athletes from 14 nations with most competitors coming from Greece, Germany, France and Great Britain. Today more 13,000 competitors from 204 nations compete in over 33 different sports and almost 400 events in the Winter and Summer Games combined.
Visitors to the exhibition will be taken on the journey from ancient Greece to the Olympic Games we know today.  Stories of some of the Olympic athletes, together with Olympic artefacts, audio and video, all the summer Olympic Medals since 1896 and all the summer Olympic Torches since 1936 will be on display in London in this unique and inspiring exhibition of human endeavour.
News and Updates
Visit The Olympic Journey: The Story of the Games website for the latest news, films and much more.
See who is behind this exciting 'first-time in London' exhibition. Discover more