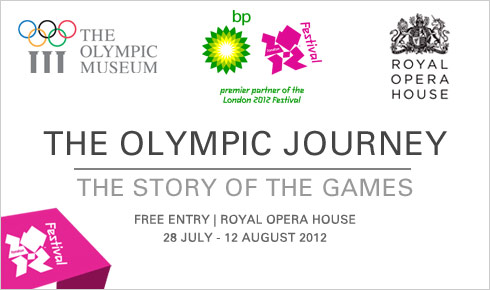 Please note: 'The Olympic Journey is now closed. Many thanks to all who came along.
The Olympic Journey: The Story of the Games took place at the Royal Opera House from Saturday 28 July until Sunday 12 August 2012 as part of the London 2012 Festival.
BP and the Royal Opera House joined forces with The Olympic Museum in Lausanne to create a free and unique exhibition telling the Olympic story through the endeavours of ancient and modern Olympians. The exhibition, shown in London for two weeks only, included artefacts from athletes through the ages, audio and film, the summer Olympic Medals since 1896 and the summer Olympic Torches since 1936.
Visitors also had the opportunity to have their photo taken with the London 2012 Olympic torch - all for free.
Find out more about the exhibition in our News and Features section.
Watch the trailer
Discover
Take a closer look at what was involved in The Olympic Journey: The Story of the Games. Discover more
The Royal Opera House hosted other highlights of the London 2012 Festival. Find out more
Getting here
Plan your visit and find out directions to the Royal Opera House.