Please note: This tour took place in 2014. There are no dates available for 2015.

Mariinsky Ballet Summer Season
Monday 28 July–Saturday 16 August 2014
Friends booking opens 18 March 2014
General booking opens 8 April 2014
The Mariinsky Ballet returns to the Royal Opera House with the Orchestra of the Mariinsky Theatre for another exciting three-week season of spectacular ballets presented by Victor Hochhauser.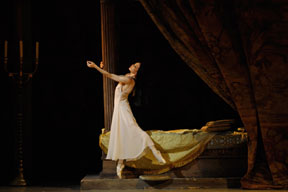 Diana Vishneva
Photo: Valentin Baranovsky
28 | 29 | 30 | 31 July at 7.30pm
Tickets: £10–£120
This exciting Mariinsky Ballet season opens with the return of one of the most cherished and admired of 20th century Russian ballets: Leonid Lavrovsky's celebrated realisation of Romeo and Juliet. The dramatic force and lyric power of Sergei Prokofiev's score movingly portrays Shakespeare's star-crossed lovers and the Renaissance society which frames their tragedy.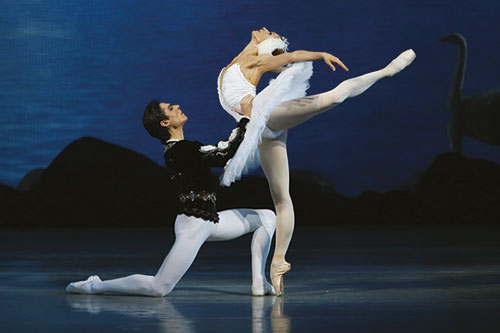 Oksana Skorik, Timur Askerov
Photo: Valentin Baranovsky
1 | 2 | 4 | 5 | 6 | 7 | 13 | 14 August 7.30pm
2 August 2pm
Tickets: £10–£120
The Mariinsky Ballet's entrancing production of Konstantin Sergeyev's Swan Lake, based on Petipa and Ivanov's great masterpiece. Lyrical and dramatic, mysterious and majestic, the incomparable Mariinsky create an imaginary world where Prince Siegfried and the swan-princess Odette affirm their love for each other, conquering the forces of evil. Tchaikovsky's ravishing music combines with peerless choreography showing the Mariinsky's famed corps de ballet in its superlative beauty.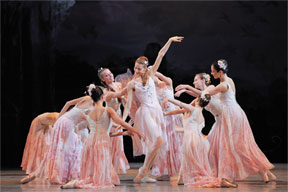 Ekaterina Kondaurova
Photo: Valentin Baranovsky
8 | 9 August 7.30pm
9 August 2pm
Tickets: £10–£120
Two spellbinding ballets by the great 20th-century choreographer, George Balanchine. The Mariinsky's acclaimed 2012 production of A Midsummer Night's Dream will be performed for the first time outside Russia. Balanchine's joyous transformation of Shakespeare's comedy of romantic love, mishap, illusion and magic is set to Mendelssohn's enchanting music. Apollo, inspired by Stravinsky's radiant score, portrays the mythological Greek god of music in scenes of exquisite classical beauty.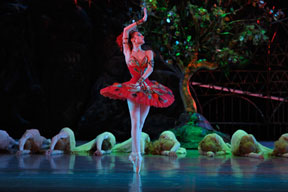 Yulia Stepanova
Photo: Valentin Baranovsky
11 | 12 August 7.30pm
Tickets: £10–£120
A spectacular programme of three great ballets. The powerful splendour of Mikhail Fokine's The Firebird, to Stravinsky's glittering score, vividly evokes the mystery and colour of mediaeval Russia.
Marguerite and Armand is Frederick Ashton's celebrated version of Duma fils's tale of passion and loss. Set to Liszt's romantic music, the ballet contains two of the greatest roles in the ballet repertory.
Enthralling, tender, exhilarating, Alexei Ratmansky's acclaimed Concerto DSCH, to a thrilling score by Shostakovich, displays the breathtaking versatility of the Mariinsky dancers.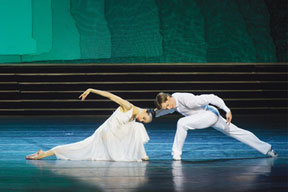 Diana Vishneva, Vladimir Shklyarov
Photo: Valentin Baranovsky
15 | 16 August 7.30pm
16 August 2pm
Tickets: £10–£120
The beloved fairytale of Cinderella is given fresh, multi-faceted insights in this spectacular version by the celebrated choreographer Alexei Ratmansky. Suffering, magic, humour and love combine in the timelessly touching story of the beautiful, downtrodden girl who, despite the comic intrigues of her jealous stepmother and ugly stepsisters, wins the hand of her handsome Prince. The inspired and innovative choreography perfectly captures the joy, lyricism and wit of Prokofiev's unforgettable score.
Mariinsky UK tour supported by BP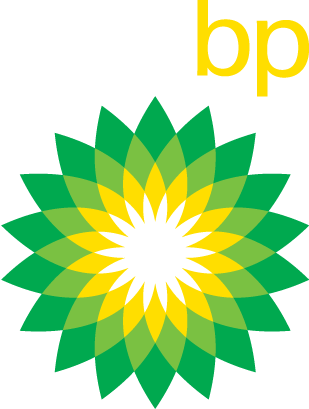 Global Partners of the Mariinsky Theatre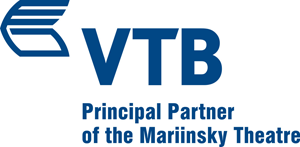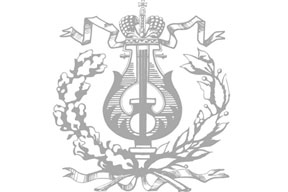 Svetlana Ivanova
Uliana Lopatkina
Anastasia Matvienko
Oxana Skorik, Alina Somova
Yulia Stepanova, Viktoria Tereshkina
Diana Vishneva
Timur Askerov, Andrey Ermakov
Evgeny Ivanchenko, Kimin Kim
Xander Parish, Alexander Sergeyev
Vladimir Shklyarov, Yuri Smekalov
Philipp Stepin
The Ballets of George Balanchine
are presented by arrangement with
The George Balanchine TrustSM
and have been produced in accordance
with the Balanchine Style® and
Balanchine Technique® Service standards established and provided by the Trust.